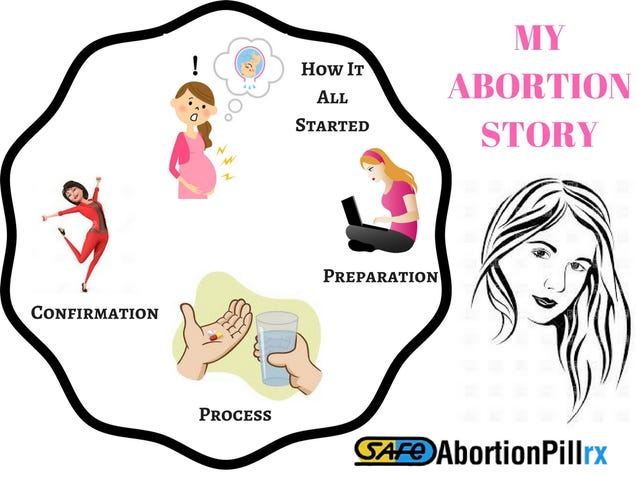 A woman goes on an emotional roller coaster when she undergoes abortion medication. We approached an old customer who has a beautiful healthy daughter today and asked her share her story. She showed her sincere interest and immediately said yes while wanting to express all her feelings while before today's woman.Here's what she has to say:
People often avoid discussing abortion giving it a taboo picture. However, the option of abortion has greeted many women making their lives better in numerous ways. Yet many areas remain uneducated where women lack knowledge about their body, pregnancy, and abortion. So I decided that I'll share my abortion story and spread the word to as many people as I can. The light has to reach places which are still under the shadow of discomfort and shame of abortion. So here's the story!
How it all started:
First things first, I knew next to nothing about abortion. I was 7 weeks pregnant when I came to know about my pregnancy. Being unmarried and as young as twenty, I was shattered to learn the news. When I spoke to boyfriend, he kind of back out and broke up with me. I felt terribly alone and disgust with my pregnancy not knowing my whys and wherefores. Time was running out quickly and so I decided to abort my pregnancy. When I did some online search I learned about medical abortion.
Preparation:
People never need a reason to poke their noses in your life. Since I was alone and scared of side effects of abortion medication, I wanted something that would take care of its after effects as well. So I decided to order abortion pill pack online to terminate my pregnancy. While the pills were getting shipped and on their way, I studied more about abortion medication. I was going to college regularly but I planned not to go there once my medication starts.
Things which I carried with me at home:
Sanitary maxi pads

Hydrating drinks

Fruits and light food

Process:
The day my medication arrived, I took the first pill, Mifepristone. That day was normal for me and nothing major happened as such apart from dizziness. I slept for most of that today. The next day I took the second medication, Misoprostol. I kept two tablets in each cheek pockets and let it remain for around half an hour, following which, I swallowed the remainders. I took the pills around 10.30-11 in the morning while I started bleeding around 4 o'clock in the evening. Everything felt normal until it started paining in the abdomen part. Luckily I had other pills which reduced my pain a bit
I soaked 3 maxi pads on the first day while 5 pads the next 4 days. My bleeding got a lighter post then and stopped on the 8th day. The process was completed. No, I didn't give a sigh of relief because I was yet to confirm my abortion results. But the only reason why I was happy that nobody could know about my abortion process.
Confirmation:
I knew I had aborted my pregnancy the day I saw fetus part through vaginal bleeding. However, it's always better to get reassurance when you're dealing with such delicate things. On the 15th day, I took pregnancy test through the preg test and confirmed my pregnancy cancellation. I can not express how I felt that moment but it was an amazing moment indeed.
I'm 32 today with a good healthy 2-year-old daughter and I'm happy that I choose to buy abortion pill and managed to come out of that situation. Its consequences would have worsened hadn't I took the subject seriously. Many girls go in trauma knowing about their unwanted pregnancy and end up risking their lives with unhealthy decisions being taken. I don't want that happen to any girl and hence this is my sincere attempt to convey that abortion is not a woeful decision. You just need to know the right solution.